On December 9, Jaburg Wilk attorney Tom Moring roped in and then rappelled down the side of a 27 story skyscraper in downtown Phoenix to raise money for Special Olympics Arizona.  To add some extra power to his fund raising efforts for Arizona Special Olympics, Tom was dressed as Elvis and his supporters were Team Rap-Elvis.   
'Over the Edge' is an annual pledge-based fundraiser where people who are willing to go over the edge of  the Cityscape high-rise tower and travel 415 feet to the ground raise money to support and empower 22,000 athletes across the state of Arizona. The event has raised nearly $210,000. Tom raised over $3,700 for the Special Olympics Arizona.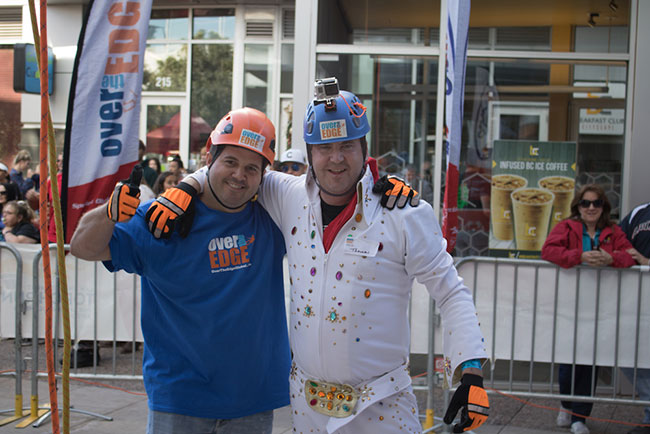 Special Olympics Arizona's (SOAZ) goal is to empower the over 22,000 Arizonans with intellectual disabilities to be healthy, productive, and respected members of society through SOAZ's year-round sports training, competitions and support programs.   Special Olympics Arizona has grown to over 22,000 athletes, 21 sports, 172 year-round competitions and multiple support programs. All of SOAZ programs are provided at no cost to the athletes. Learn more about Arizona Special Olympics.